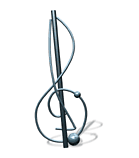 Brian's passion for music first found expression on a toy piano and continued on a journey that carried him from the Alabama School of Fine Arts to the prestigious Berklee College of Music. Currently based in Atlanta, Georgia, he creates original soundtracks for commercial projects, films, tv, radio, albums, and mixed media.
His studio, The Music Factory, is a playground of instruments and computers integrated to form a nearly infinite palette of sounds and textures -
a technical complement to Brian's stylistic versatility. In addition to his strengths as a composer, arranger and multi-instrumentalist, his skills
as an engineer come to life in mixing sessions, where he paints vivid audio landscapes.


The recipient of many industry awards
and accolades, Brian has worked on
more than one thousand projects.